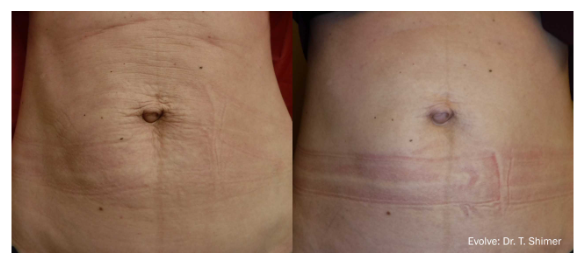 We have had the InMode EvolveX machine for awhile mostly using to treat abdominal fat, the part that is so hard to get rid of with diet and exercise.  It uses radiofrequency (RF) and electrical pulses to break down the membranes of fat cells, allowing your body to remove the fat content from the abdominal area. 
But do you know RF can also be used by itself to tighten up loose skin?  InMode does this with the TITE probe.  Unlike other fat reduction methods that leave a lot of loose skin in the end, with InMode, you can switch over to the TITE probe just to tighten up the skin.
TITE sessions are $497 each, but you can order a package and Get 40% OFF HERE.  Skin tightening is the last step you need to do after losing the inches off your abdomen, buttocks, thighs, or upper arms.  InMode TITE is a great alternative to getting surgical tummy tucks.  Order Now or call us if you have any questions.